Wearing your V2
The Shot Scope V2 watch should be worn on your glove hand, right-handed golfers should wear it on their left hand and left-handed golfers on their right. The watch must be within 10cms of the tag when swinging the club, therefore it is essential that you do not wear the watch too high on your wrist. There should also not be any other wristwear worn alongside your Shot Scope on either wrist.
By default, the watch is configured for right-handed players, you can update this on the Shot Scope app.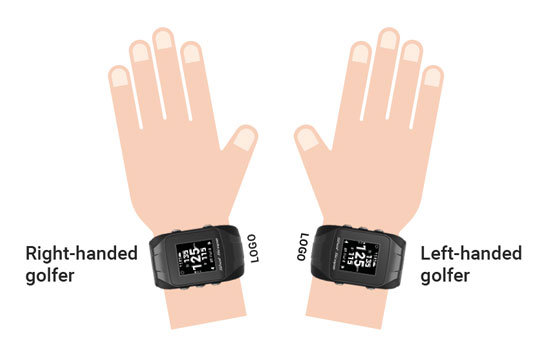 Yards or Meters

To update the unit of measurement that you view your on-screen yardages in, please navigate to the settings screen, by pressing the bottom right button from the home screen.
To scroll down, press the bottom right button; to scroll up, press the top right button.
To select an option, press the top left button.
Once an option has been selected, the watch will display "Setting Updated" and you will be automatically returned to the home screen.      
Please note, this will only update the unit of measurement for your yardages and not your statistics. This can be updated within the Shot Scope apps.