Manually creating clubs
To add a new club, simply navigate to the bottom of the "Tags" section and click the blue "ADD CLUBS" button on the right. This will pull up a menu that will allow you to select the type of club and its make and model. Once you have entered this information press "Submit", your new club will automatically appear as the last club in your "unassigned Clubs" section at the bottom of the My Bag page. To assign this to a club, please follow the instructions here.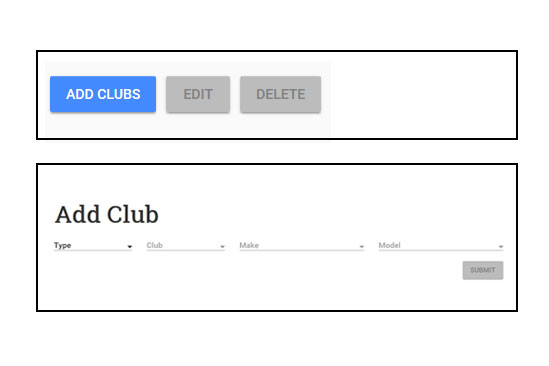 Updating existing clubs:
If you add a club in error or make a mistake with any of the options, the club can be edited or deleted by following the steps below.
Edit – select the club, the outline will change to red, and press the black "Edit" button, located underneath the "Tags" section. This will bring up the options available to edit: type, name, make, model. When happy with changes, submit these and the box will close, your updates have been applied.
Delete – you have the option to delete any club that has no data on it. With clubs that have been used to gather data you cannot delete this as it will result in a loss of statistics and invalidate your data.
Remember: simply creating a club does not make it active, it must be assigned to a club first. Only clubs which have been physically tagged and then assigned this same tag will collect data. Find out how to assign clubs to tags here.
Auto-assigned clubs
If you play a round using a tag which has not been assigned a club on My Bag the system will create a club to assign it to, based on the tag. For example, if you use the "D" tag in a round but don't have any clubs assigned to it, then a driver club will automatically be created and assigned to the "D" tag for you. This club can be changed in the editing process to indicate the real club used.