When using the standard 16 tags, a golfer can have 15 active clubs and one active putter at any time. Tags collect the data for the club, assigning the data retrospectively to whichever club that tag is linked with on My Bag. For example, if you assign the 'X1' tag to your driver, all data that the X1 tag collects will be shown as a driver club in the data and not as 'X1'.
Therefore, it is essential that the correct tags are assigned to the correct clubs.  Only clubs which have a tag affixed to the grip will collect data, please keep this in mind when creating clubs. Whilst you can have as many clubs as you wish on the dashboard, these are only collecting data when assigned to a tag in My Bag.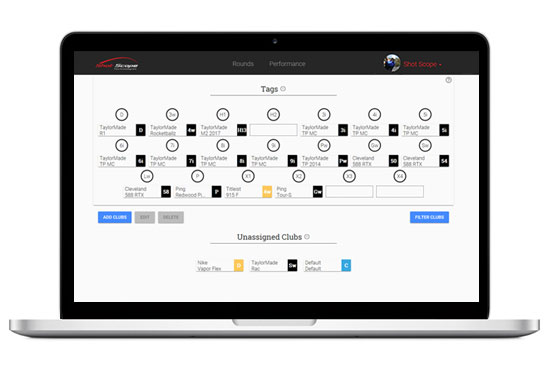 Start by creating all of the clubs that you use on the course. The number of clubs does not matter, you can have as many clubs as you wish on your dashboard but we recommend keeping it to the ones you will use, otherwise it can become cluttered and confusing. For more instructions on how to create clubs, please click here.

Once you have created all of the clubs, you then need to assign these to a tag. The tags should match up with the club they are inserted into, using the labels at the top. The 16 tags and the clubs to which these are assigned on My Bag represent your active clubs in real life and will be the only ones that gather data. When you go out for a round, ensure that all of the clubs in your bag have a tag and that this tag is assigned correctly in My Bag. For instructions on how to set up your tags, please click here.
Remember, you must use the 'P' tag for your putter. No other tag will work with a putter club.
When you create a new club it will automatically sit in the bottom section of the page. It will be under the 'Unassigned Clubs' section because it has not been linked to a tag as of yet.

To assign this club simply click and drag the club from the 'Unassigned Clubs' section and drop it  over the tag you wish to link it with. For example, to link a new 5 wood club with the 'X1' tag, simply drag the 5 wood club from the 'Unassigned Clubs' and drop it over the circle showing 'X1' in the 'Tags' section.
When assigning a new club to a tag already in use you must first remove the old club by clicking and dragging the club to the 'Unassigned Clubs' section. This will then free the tag slot for a new club. You can then click and drag the new club into the newly vacated tag slot.