If you can't find your course in our database please try and only search for the key word of the course, for example Augusta rather than Augusta National Golf Club. It might just be that the course name is slightly different in our database than what you are searching.
If you still can't find your course you can request for a course to be mapped. To do this follow these instructions:
1) Connect your watch to the desktop app. Click here for instructions on connecting the watch.
2) Navigate to the 'Courses' section on the app. On the left side of the screen there is a tab named 'Courses', click on this tab.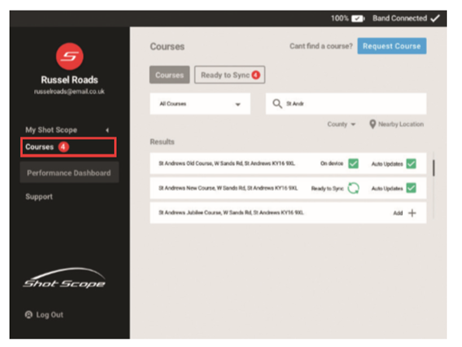 3) Tap the 'Request' button at the bottom of the screen. A form will pop up and you will need to complete all sections of this before you can submit a request. Once you have submitted the form our team will receive the information you have provided and get the course mapped in 3 days.
*Remember to log out the app (closing the app doesn't log you out) and log back in to update the course list, if you don't update the course list you won't find the course we have added even though it is now in the database.