To download courses onto your watch using the mobile app please follow the instructions below.
1) Connect your watch to the mobile app. Click here for more information on how to connect your watch.
2) Navigate to the 'Courses' section on the app. If you are on the iOS app then you do this by tapping on the 'Courses' tab at the bottom of the screen. If you are on the Android app then firstly tap on the menu button top left of the screen and then on the 'Courses' tab from the options that appear.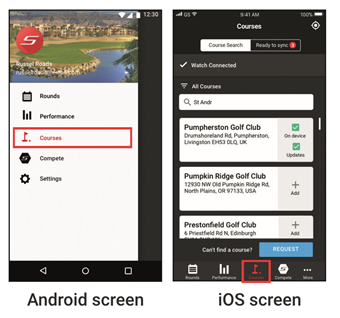 3) Once you are on the 'Courses' screen you can search our database to find courses by either using the nearby courses feature or by searching a course name into the search bar. To use the nearby courses feature tap on the target icon top right of the screen. To use the search bar feature tap on the search bar, type in the name of the course and then press 'Done'.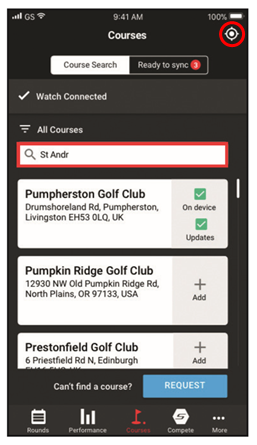 *If you don't find the course you are looking for try search for the course only using the key word of the course, for example 'Augusta'.
4) Courses that are not active on the watch are marked with a plus. Tap the plus sign and the course will be added to your ready to sync list.
5) Once you have added courses to your list you will need to sync them to your watch. To do this navigate to the 'Ready to Sync' screen. This is done by tapping the 'Ready to Sync' button near the top of the screen.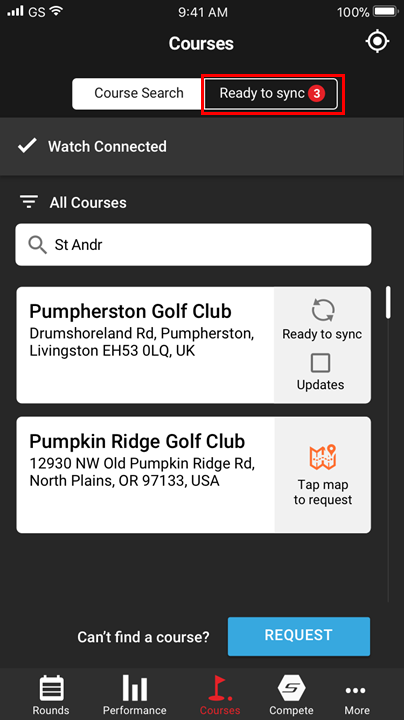 6) Once you are on the ready to sync screen, the amount of courses that are ready to sync will be displayed. Courses will be auto selected to sync. If you would only like to sync a selection of courses to the watch simply tap on the minus sign to deselect the course.
Once you have selected the courses to transfer onto your watch tap the 'Sync' button near the top of the screen. This will start the sync process and show a progress bar. Once the sync is complete the bar will change from showing 'Syncing courses' to 'Sync complete'.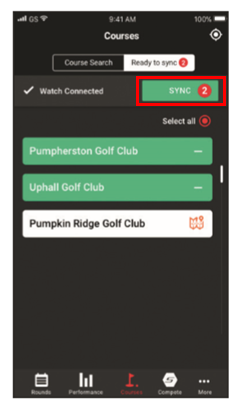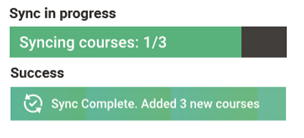 *If a course is marked with an orange map symbol this means that it is currently being mapped by our team and therefore cannot be synced. The course should be mapped within 3 days and once it's available the map symbol will disappear and go green ready for syncing.
7) This is the end of the sync process, those courses will now be available on your watch. Simply turn up to the course, start a round and the course will be available for selection.